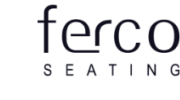 Ferco Seating Systems was established in 1983. Today it is an international company headquartered in the UK, with regional operations centres in Singapore, manufacturing facilities in Malaysia.
The company specializes in the design and manufacture of auditorium, education and stadium seating. European design and Asian manufacture ensures cost-effective, top quality products for customers in over 30 countries.
Commitment to quality and value, and flexibility in approaching customer needs are at the core of Ferco's operating philosophy. The company has successfully completed hundreds of turnkey seating projects ranging in size from seating for six for a home theatre in Pakistan to 120,000 seats for the tCommonwealth Games in Malaysia. Clients big and small receive the same service, support and expertise.
K Concept has been representing Ferco Seating since 2008 and have finalized many projects from Mori Cinema Group in Russia to Kayseri Stadium in Turkey and Astana Arena in Kazakhstan.