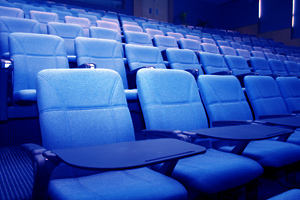 From elementary schools to major universities, today's modern learning environments require creative and flexible education seats to accommodate diverse curriculum and the budgetary necessity for maximized use of every square foot of floor space. We understand what it takes to provide solutions that deliver superior ergonomic comfort, aesthetic look, and durable long-lasting construction. Simply put, Ferco Seatingproducts provide the best value in the education market today.
Our product offering includes solutions for fixed seating, lecture halls, auditorium seating, sports stadiums, arenas, and performing arts centers. Free standing tables and chairs and tablet arm chairs to provide solutions for cafeteria, hall, library and general classroom environments for high schools and college/university markets.
We are passionate about understanding emerging trends in education market and providing you with our expanding product portfolio to fully meet your needs for education seats. Let our experience and trusted brand promise work for you.


Wrimatic

Designed and patented by FERCO, this incredibly strong A3 sized writing tablet has continually remained a best seller.



Wrimatic ARC

The Wrimatic writing tablet was modified and adapted to fit the popular ARC series.


Modulamm

Italian in design the Modulamm series is timeless in aesthetics but its main feature is its strength and durability.