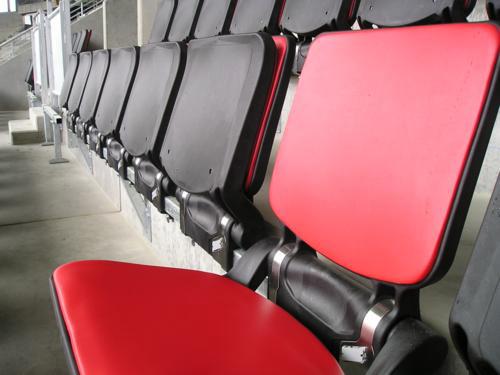 Sports, exciting as it is, has its own share of issues. Issues on stadium owners and operators face on a daily basis, vandalism, disregard for property and safety is just the tip of the iceberg.
Arena seats are not spared from that abuse either, they should equally be strong.
Ferco's stadium seating solutions stood above the rest, rose to the challenge to come up with stadium seats that meet the demand of Strength and Durability. The seat with high quality UV treated process can 'weather any environment' for open-air stadiums and each seat is guaranteed to perform to the level set by arena designers and builders.
Ferco has its own architectural personality and its own complex design capability. That's where Ferco's engineering excellence really makes our stadium seats a difference. From our inventive seating systems to the industry's broadest range of plastic and upholstered fixed chairs, our CAD-equipped engineers will work with you from concept through design and construction to develop your facility as space efficiently and cost-effectively as possible—making the most of your seating capacity and maximize your profitability.


ARC

Originally designed to encompass all levels of stadium seating, the ARC family offers a complete range from simple and economical to luxurious and exclusive.



FCB

Designed by the Swiss Architects Herzog & de Meuron for Munich's Allianz Arena, the FCB's curves wraps the human body to provide extremely comfortable and ergonomic seating.



FSS

From Arsenal's Emirates stadium to Yeman's Sa'ana Stadium, Ferco has been providing stadium seating solutions for all types of sporting venues.