Date: 17 January 2014
K Concept has won another major contract at Skylight Business Center for the new office of STG( StroyTransGaz) - around 6000 sq.m STG (Stroytransgaz) Group is an international diversified construction holding, one of the leaders of the Russian market. The companies operating under the brand Stroytransgaz have been implementing major industrial and civil construction projects in Russia and abroad for more than 20 years.
The strategic directions of the Group's activities are associated with the construction of objects in the power, oil and gas and petrochemical industries, transport infrastructure, including road and railway construction, as well as in the field of industrial ecology.
Contract was awarded by Pridex Group and K Concept's scope is to supply Kingspan Access Floors and Paragon Carpet Tiles for this prestigious project.
This project is a major milestone for K Concept as it is the first order in Russia for Paragon Carpets, UK. K concept has been the exclusive distributor of Paragon in Russia since November 2013.

Date : 14 January 2013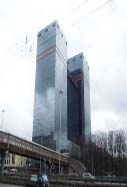 Kingspan Gains Major Russian Order K Concept has won its second largest contract with Kingspan Access Floors in Russia - a contract to supply 25,000 sq m of raised flooring for new premises in Moscow for Mail.Ru Group, the leading Internet company in Russia.
Mail.Ru Group is expanding and also consolidating its operations under one roof by occupying the entire Tower A at Skylight, a mixed use complex comprising two 27-storey towers connected by a sky bridge and also linked by a five floor area in the centre of Moscow's business area.
The raised flooring contract was awarded by KMT Construction Holding. The company's project director, Petr Khlebtsov, and CEO, Eray Gonen, said they selected Kingspan flooring because of its quality to price ratio, speed of delivery and the extensive technical support provided by K Concept.
Kingspan Access Floors Commercial Director Rachel Mumford said: "Another factor in the client's choice of our steel encapsulated flooring was the advantages of its chipboard core - its lighter weight means it is easier to handle, there is less risk of transport damage, and freight and material costs are lower."
. K Concept's largest contract with Kingspan Access Floors in Russia was to supply 35,000 sq m of flooring in 2010 to the oil company TNK-BP for a new headquarters building. Reference Letter

Date: 07 January 2012
K Concept, has supplied 5,000m2 of RG2 panels for the new offices of Samsung Electronics in VOENTORG Business Centre located in Moscow.
Kingspan's speed of delivery and technical support helped K Concept to provide a service which was commended by the main contractors, RD Construction Management.
Anton Zvantsov, of RD Construction, said: "I would like to thank K concept for a fruitful collaboration. they were flexible and fast in handling our order and provided active
professional support from the order until the end of the installation."

Date: 6 February 2011
K Concept has supplied 4,000m2 of Kingspan Raised floors for the DSP( Data Space Partners)-3 data centre in Moscow and is currently working on an 8,000m2 contract for the Russian bank, Sberbank's Mega Data Centre, again in Moscow.
The DSP-3 order involved supplying FdEB vinyl finish flooring with a 570mm void, and for Sberbank Kingspan is again supplying vinyl finish flooring, this time with a 810mm void.
Emilio Alvarez, Project Manager of Mercury, the contractors, said: "I have been working on a few projects in recent years with Kingspan and K Concept and i can say that they always do their best to meet client's requirements and provide the best service."
"They won the tender for this contract in a fair competition because they provided the best relationship between price and quality," he added.